Submitted on Wed, 06 Sep 2023 11:43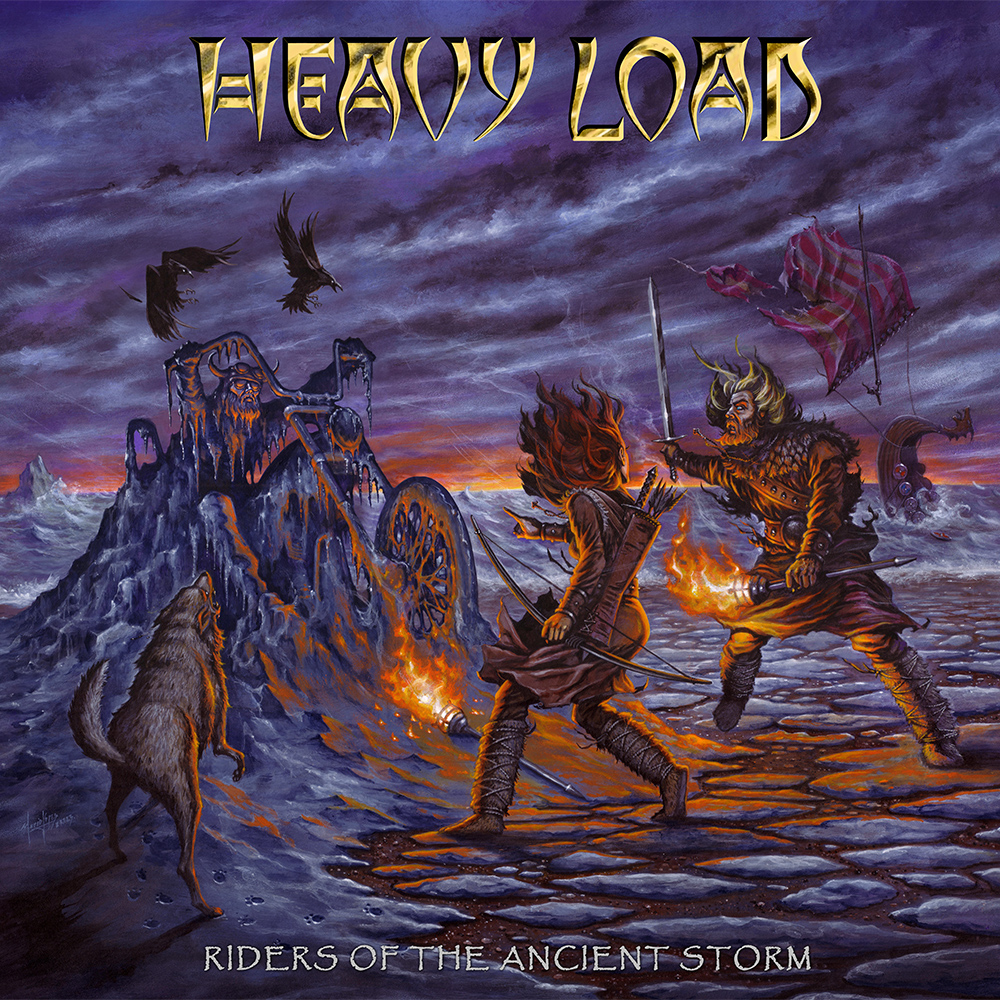 Album release Riders of the Ancient Storm on October 6th, 2023. Pre-order starts now at www.noremorse.gr
The band that started the Swedish wave of heavy metal is back: HEAVY LOAD! Four decades have passed since HEAVY LOAD released their latest album: Stronger than Evil (1983). Years before the rest of the northern world, their songs ventured into Viking themes and existential lyrics, spearheading a movement way ahead of its time. The compositions are dramatic and render a great variety of moods, while passionate innovation and creative fervor are always shining bright in every song on the album – pioneering 101!   
HEAVY LOAD's comeback album Riders of the Ancient Storm rings of their well-known sound and songwriting. Thanks to an epic pact between the band and No Remorse Records, the band's whole back catalog is brought back as high quality re-releases. After re-releasing Stronger than Evil in 2018 and Death or Glory in 2019, Metal Conquest will follow in 2024 and Full Speed at High Level later. The records come with bonus tracks and old recordings never before heard by the public, and extensive booklets. It's a release long awaited by people all over the globe – and it will be followed by many concerts to come. HEAVY LOAD is back!
Riders of the Ancient Storm will be available on October 6th, early birds can pre-order it right now on www.noremorse.gr
Available formats for pre-ordering:
- LP 180gr purple in gatefold with 8-page booklet, limited 200.
- LP 180gr gold in gatefold with 8-page booklet, limited 500.
- LP 180gr black in gatefold with 8-page booklet.
- CD jewel case with one acoustic bonus track and 20-page booklet.
- CD digipak with one acoustic bonus track and 20-page booklet, limited 1000.
There is also a DELUXE BOX SET, limited to 300 hand numbered copies including: LP 180gr blue in gatefold with 8-page booklet, CD digipak with one acoustic bonus track and 20-page booklet, t-shirt, poster, and the Wahlgaard Saga book, a novel by Ragne Wahlquist of Heavy Load.
HEAVY LOAD vinyl pre-orders directly from No Remorse Records will receive a HEAVY LOAD poster with the new album cover! One poster per client-order, while stock lasts!
Wahlgaard Saga: Novel by Ragne Wahlquist of Heavy Load is also available on October 6th, 2023.
The tale finds resonance in Heavy Load's music. So intimate is the proximity between the music and the novel, that where words paint the scenes and images of the novel, music creates atmospheres with timbres, tones, and lyrics. The series is a family saga in a Viking age setting and several scenes are also rendered in the lyrics on the new Heavy Load album, Riders of the Ancient Storm.
Riders of the Ancient Storm tracklist:
1. Ride the Night
2. We Rock the World
3. Walhalla Warriors
4. Angel Dark
5. Slave No More
6. Raven Is Calling
7. Sail Away
8. Butterfly Whispering (CD bonus track)
HEAVY LOAD:
Ragne Wahlquist: Vocals, Lead Guitar and Keyboards
Styrbjörn Wahlquist: Vocals and Drums
Torbjörn Ragnesjö: Bass Guitar
Niclas Sunnerberg: Guitar and Backing Vocals
Good news also for all fans at the Keep It True Rising Festival in Würzburg (Germany) that starts on October 6th, as Heavy Load (Styrbjörn and Ragne Wahlquist) are looking forward to meeting you at a signing session on the day of their album release. Check the festival website and social media channels for details. Festival tickets available at:
https://posthalle.reservix.de/p/reservix/group/427941
https://metalentertainment.de/de/26-tickets
For those who will pre-order the new HEAVY LOAD album Riders of the Ancient Storm directly from No Remorse Records there is an option to pick your order at Keep It True Rising 3 Festival and save shipping costs! You can reserve them online, add more products if you wish, and you can pick them up and pay in cash at Keep It True Rising 3 Festival (6 and 7 October 2023) at Posthalle, Würzburg, Germany.
Once you log in to your account and add the products in your cart, you mark the option "Pickup at KIT Festival 2023", and at the payment method there will be a "Pay in cash at KIT Festival 2023" choice.
During the KIT Rising 3 Festival, you can come to the No Remorse Records stand with your name and your order number, pick and pay for the products without any shipping costs.
About HEAVY LOAD
HEAVY LOAD was established in Stockholm during the grim winter of 1974-1975 by the two brothers Ragne Wahlquist (vocals, guitars and keyboards) and Styrbjörn Wahlquist (vocals and drums). The vision and the passion of the Wahlquist brothers was always the kernel of the band's determined drive – their drive to venture out on musical journeys and to spread their music and lyrics to the world. The two inventive minds wouldn't have outsiders get in the way of shaping their own future as heavy metal pioneers: As producers and owners of the Thunderload Studio, they've shaped a sound that would quickly become the blueprint for European doom metal, starting with Candelmass' groundbreaking Epicus Doomicus Metallicus album and followed by the band's iconic Nightfall. And with Yngwie Malmsteen, Morbid and Hammerfall, the fruitful exploration of new ground wouldn't stop.
Speaking of explorers: The Viking heritage has been an important source of inspiration ever since their childhood. The brothers' emotional connection to people of a remote past, people with whom they share everlasting human challenges, was destined to find an outlet in their music. As a consequence, the brothers merged '70s Hard Rock with Viking settings and sentiments, resulting in the band's distinctive style of music, lyrics and artwork for their album covers: Viking Metal – a style which came to inspire later bands in Sweden and elsewhere, a style that now has many followers around the globe. However, although the Viking themes have always been a salient trait in HEAVY LOAD's songwriting, some of their songs rendered stories with other settings. No matter the setting, though, all songs have their source deep down in the brothers' emotional life.