Submitted on Mon, 07 Sep 2020 15:40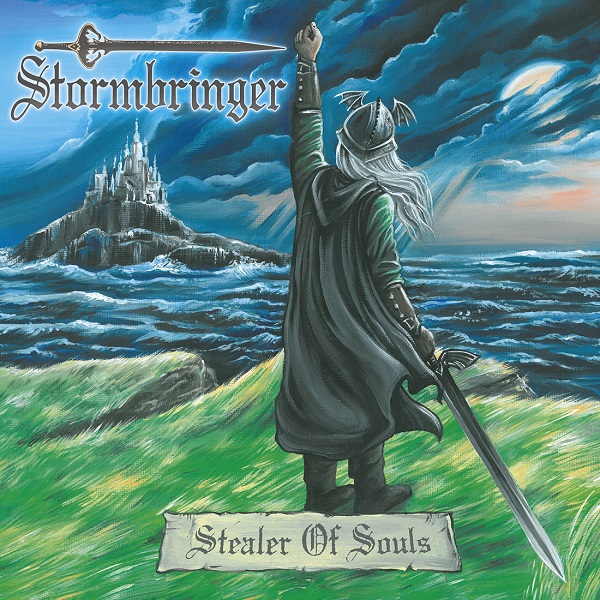 The cult ultra rare recordings that were previously released only on cassette tape, available for the first time on LP and CD. PRE-ORDER IS OPEN, date available: October 30, 2020
Available versions:
CD limited to 500 copies (including 3 bonus tracks)
LP black limited to 400 copies
LP silver limited to 100 copies - SOLD OUT
Release date: October 30, 2020.
In the vast world of underground metal, a few stories and unreleased recordings have reached a cult and mythical status. And while during the last decade the "cult" word seems to be used more than needed, there are still a few recordings that sum up the exact meaning of that word. Stormbringer's "Stealer of Souls" is one of them.
"The band was founded in 1990 and the original line-up was a three piece band", Charles Hastert told to Michael Haifl in an interview for streetclip.de in 2017. "Leonard Brauchler (vocals), myself and Joe Starkovitch (drums, also of Iron Butterfly/Captain Beyond), whom is my cousin", added Charles. "We were also the first line-up on the 10-song tape".
That 10-song tape is no other than "Stealer of Souls" that was recorded in 1993. Those tracks were written by Charles Hastert on guitar, a multi-instrumentalist that also knew how to play piano, bass and drums, among others!
Alchemy Records produced and released a 3-song EP CD later in 1994, featuring the songs "Escape", "Sweet Dreams" and "Tales of the White Wolf". Some people name this EP as "Stormbringer", others as "Escape", others as "Tales of the White Wolf", but the original CD version came in simple cardboard sleeve just with the band name and the black sword above it. Just like the "Stealer of Souls" tape, this is also a collectors item.
"Stealer of Souls" remained to obscurity. Inspired by Michael Moorcock and Elric of Melniboné it was something more than US power metal; it was Champion Metal. When asked, Charles Hastert said: "I tried to express through the music every aspect of the saga and every note or beat became a tool. For example, the solos became the voice of the blade, cymbals were hit closer to the center making it sound more like swordplay. At the same time, I tried to keep the verses as close to the actual literature as possible. Then there were the duality and hidden things like making Stormbringer become a band in our plane of existence, so that STORMBRINGER could feed off the souls of the listener. Life imitating art, imitating life..."
TRACKLIST:
1. Vengeance
2. Stormbringer
3. Neurotic Emperor
4. Tanelorn
5. Evil Crusader
6. Silence
7. Temples of the Slain
8. Ambush
9. Vanishing Tower
10. Pit Fiend
11. Escape (EP 1994 bonus track) - only for the CD version
12. Sweet Dreams (EP 1994 bonus track) - only for the CD version
13. Tales of the White Wolf (EP 1994 bonus track) - only for the CD version