Submitted on Tue, 15 Oct 2019 14:50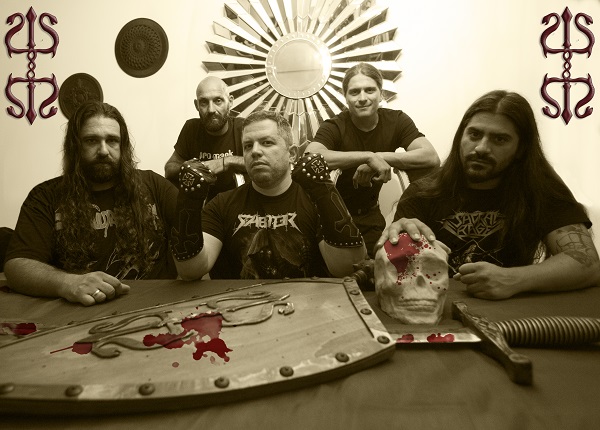 The third album of the Epic Power Metal titans SOLITARY SABRED will be released via No Remorse Records on March 13, 2020. "By Fire & Brimstone" will be released at Up The Hammers Festival 2020, where SOLITARY SABRED will share the stage with AGENT STEEL, FIFTH ANGEL, SLOUGH FEG, RIOT CITY, TRAVELER, CRYPT SERMON and more.
"By Fire & Brimstone" continues the legacy of the previous highly acclaimed album "Redemption Through Force" (9/10 - Album of the Month in Metal Hammer Greece, 10/10 at Metal Temple). Crashing and powerful, "By Fire & Brimstone" contains 9 ultra-metal tracks of barbaric nature. But this ferocious power, is combined with massive and insane technical skills in the vein of the US metal legends of the olde
Recommended for fans of HELSTAR, CAULDRON BORN, OMEN, JAG PANZER, SLAUTER XSTROYES and SANCTUARY.
Chaos descends through Fire and Brimstone...
TRACKLIST:
1. Servants of the Elder Gods
2. Assassins of Carthage
3. Disillusions
4. Invoking the Master
5. The Scarlet Citadel (Chronicles of the Barbarian King pt.I)
6. Fyres of Koth (Chronicles of the Barbarian King pt.II)
7. Psionic Transmogrification
8. IX.
9. Blestem
LINE-UP:
Petros "Asgardlord" Leptos – Invocations
Demetris "Spartacus" Demetriou – Six string of Aquilonia
Nikolas "Sprits" Moutafis – Six string of the Elder Gods
George "Stainlesz" Papaioannou – Bassionic Transmogrification
Fotis Mountouris – Drum Defilement  
DISCOGRAPHY:
2009 - The Hero the Monster the Myth
2014 - Redemption Through Force
2019 - By Fire & Brimstone
"By Fire & Brimstone" is dedicated in loving memory of Mark Shelton, Michael Grant & Chris Tsangarides, TITANS of the Flaming Metal System
Listen to the first song, "Assassins of Carthage" :