Submitted on Fri, 10 Sep 2021 11:16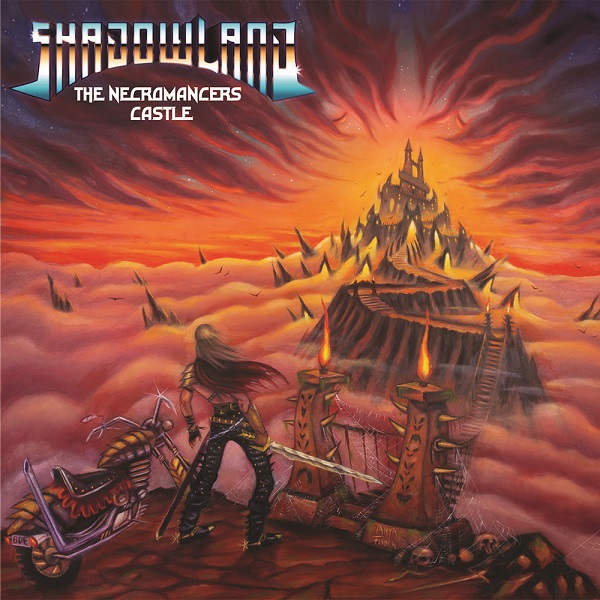 Traditional Heavy Metal from New York City, in the vein of early Iron Maiden, Riot, Saxon, Judas Priest and the New Wave of British Heavy Metal. Release date: October 22, 2021.
Forged in New York City, 2018 Anno Satanas, Shadowland journeys beyond the chaos portal, sailing through the seas of time to conjure the spirits of the New Wave of British Heavy Metal ancients. Thus far, the quintet has crafted a quad of heavy metal hexes: "Demo" (cassette 2018), "The Watcher" EP (cassette, 2019), "Lost City" (7", 2020), and the "Lamia" music video (2020). Now, in the dying days of summer 2021, Shadowland are delighted to announce their debut LP in league with No Remorse Records. Entitled "The Necromancer's Castle", expect eight weird and fantastical tales set to sounds of old school heavy metal thunder.
"Tanya's vocals echo both the gothic wails of Coven or Wooden Stake and the snarl of Di'Anno-era Maiden, while the moments of chugging riffage and thundering drums show off the band's appreciation for gritty punk and hardcore. That, coupled with Tanya's Stygian album art, makes Shadowland more than your average vest-metal act." - Kerrang! Magazine
Labelled by one astute chronicler as possessing the looks of Sacrilege and the sounds of Judas Priest, Shadowland are:
Tanya Finder - Vox
Jeff Filmer - Guitar
Al Bulmer - Guitar
Cedric Obando - Bass
Dave Hawk – Drums
TRACKLIST:
1. Ligeia
2. The Necromancer's Castle
3. Walking In Shadows
4. Rising Tide
5. Warhound
6. Remains
7. Easy Livin'
8. Pretty Faces
"The Necromancer's Castle" will be released on CD and vinyl LP.
Cover art by Tanya Finder.
Listen to the "Warhound":