Submitted on Fri, 01 May 2020 19:46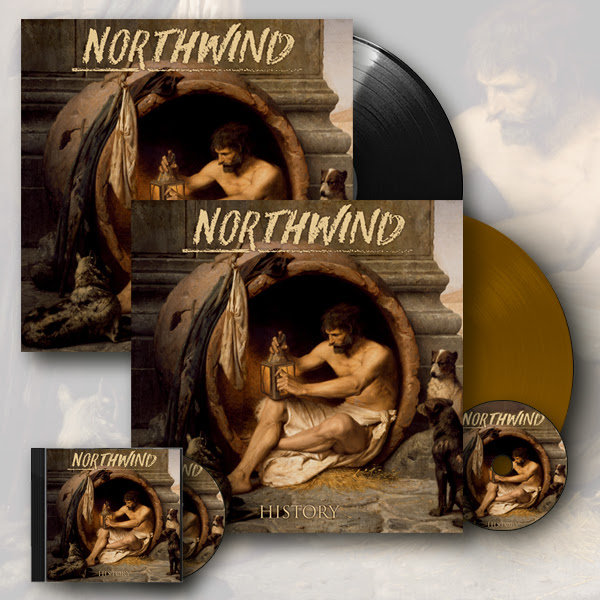 More than 3 decades after their second album "Mythology", NORTHWIND present their new studio album, "History"... and the legacy continues!
Available editions: Limited Gold LP | Black LP | CD
PRE-SALE | Date available: May 29, 2020
Available editions for pre-ordering:
- Gold vinyl limited to 100 copies with extra CD, including full album.
- Black vinyl limited to 400 copies with extra CD, including full album
- CD
"History" was recorded at Papa's Studio by Panagiotis Papahatzis, the same studio "Mythology" was recorded 33 years ago, in order to keep the same vibe as a continuation of the '80s spirit. The recording line-up is Kostas Papadopoulos-Papadimitriou (lead guitar), Theodoros Doulamis (bass guitar, vocals), Thanasis Tsimoudis (drums, percussion), Dimosthenis Dovas (lead vocals), while keyboards arranged and performed by Panagiotis Papahatzis.
Someone might say that NORTHWIND is the most legendary Hard Rock / Heavy Metal band from Greece. Their debut album "Northcomin'" was the first of its kind in Greece, originally released in 1982, while the follow-up "Mythology" (1987) is one of the greatest albums that ever came out from Greece. At that point, NORTHWIND added many epic elements in their music, in a period where even recording a metal album was a dream and extremely difficult in the country. While "Mythology" got a positive response, years later in 1992 the band visited the United Kingdom and the famous Metropolis Studios to start recording the third album under the working title "Rocks N' Stones". Four tracks were recorded but those sessions were never released and NORTHWIND went on hiatus...
Years later, and after a few shows including a performance at Up the Hammers Festival and a supporting show with URIAH HEEP, the legendary band from Thessaloniki completed a new album under the name "History"... and the legacy continues!
Tracklist:
1. The Wooden Walls
2. King Alexander the Third
3. Soldier's Pay
4. My Dying Day
5. First Shot
6. Marathon March
7. Pyrrhos the Eagle
8. Aristodemus the Hero
9. Cry Free - Die Free
10. The Dog