Submitted on Sun, 31 May 2020 17:00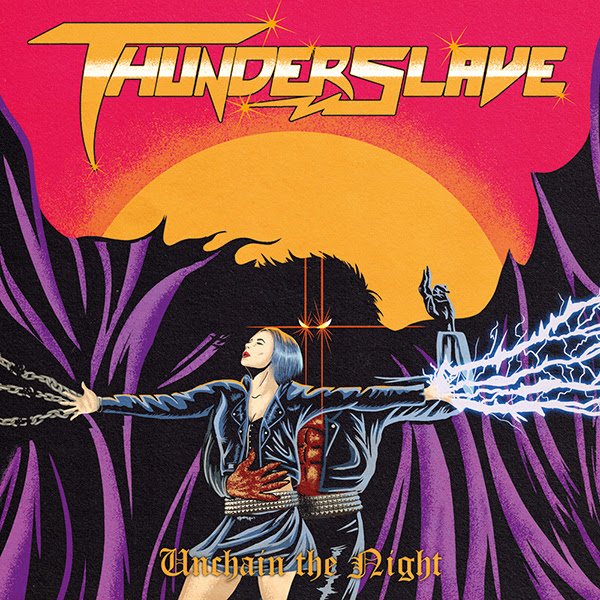 Traditional Heavy Metal from Monterrey, Mexico! Debut full-length album with 10 tracks of full speed heavy metal with a strong NWOBHM vibe, recommended for fans of ENFORCER, NIGHT DEMON, JAGUAR, TANK, JUDAS PRIEST and IRON MAIDEN.
Release date: June 26, 2020.
"This project is all we ever wanted to do", THUNDERSLAVE said. "Speaking of heavy metal, it is powerful and raw, we tried to make one of those albums that you can hear completely without skipping any song. One of those you make the audience be part of your show."
Carlos Wild (vocals & guitar) and Alan Ayala (drums) formed "Monterrey Rock Band" in Monterrey, Mexico in 2015. After a few live shows they decided to change the name of the band to THUNDERSLAVE in 2017. It was the same year where THUNDERSLAVE presented their same-titled EP, followed by a few important live shows in Latin America. By then, the line-up was completed with Ranzig Mendoza (lead guitar) and Eli Arrieta (bass).
"Unchain the Night'', the debut-full album of THUNDERSLAVE is created by pure passion for music. "This is what makes us feel alive", according to THUNDERSLAVE and this is what you will get: Honest, passionate and pure heavy metal.
Release date is set for June 26th of 2020 and the album will be available on CD format.
Pre-order is open at www.noremorse.gr
Tracklist:
1. Lightning Strikes
2. Still on Time
3. Wicked Night
4. Maniac
5. Heavy Metal Master
6. Inner Voices
7. Lucifer Morning Star
8. Black Thunder
9. Laying Down Your Life
10. Warriors of the Night
Listen to the "Warriors of the Night" lyric video, featuring guest vocals by Mandy Martillo (MIDNIGHT DICE, ex-SATAN'S HALLOW):
Join THUNDERSLAVE on Facebook HERE.