Submitted on Wed, 18 Nov 2020 12:48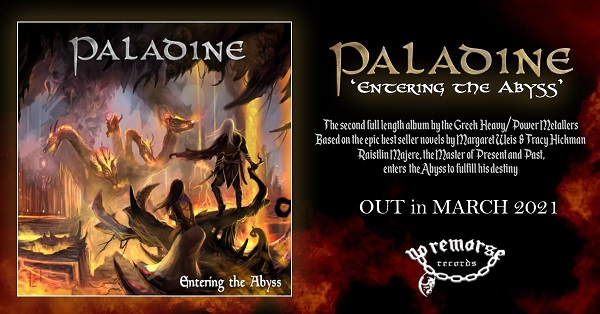 The second full-length studio album, "Entering the Abyss", will be released in March 2021.
The Greek Heavy / Power Metallers return with their second album after "Finding Solace", that was also released by No Remorse Records in 2017.
The cover artwork was designed once again by Singaporean artist, Jim Ling.
The concept is based on Dragonlance, the best-selling epic fantasy novel series written by Margaret Weis and Tracy Hickman.
TRACKLIST:
1. Raistlin's Ambition
2. War of the Lance (Bringer of Fire)
3. Between Gods and Men
4. Mighty Heart
5. Entering the Abyss
6. Hourglass in the Sky
7. Darkness and Light
8. Brother Against Brother
9. Sacrifice of a Hero
10. The Return
11. River of Souls
LINE-UP:
Nick "The Metalizer" Protonotarios: Vocals
Sotiris Paraskevas: Guitars
John Kats: Guitars
Christ Stergianidis: Bass Guitar
Mpampis Tsolakis: Drums