Submitted on Mon, 19 Oct 2020 14:22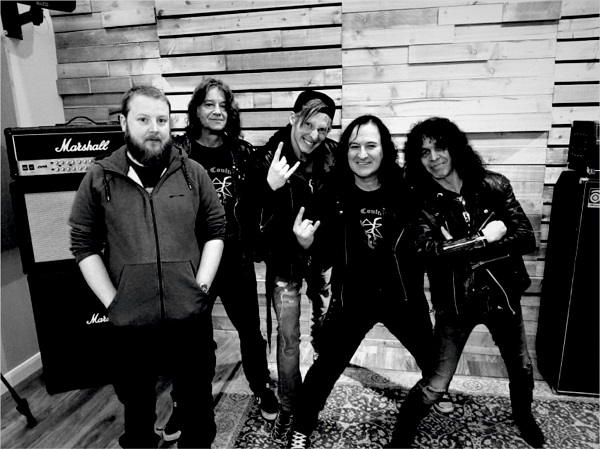 Formed in 1980 and lost in the depths of time. Returned in 2019 with live shows and new album in the works!
Rampant is an original 1980 NWOBHM era band from Essex/London area. Reformed in early 2019 the new line-up consists of Jamie Carter (guitar, backing vocals), Sam Henstock (guitar, backing vocals), Jimi King (bass, backing vocals), Micky Dietz (drums, percussion) and frontman Tee Rets (lead vocals, keyboards).
Rampant played its first gig at Guisnes Court in Tolshunt D'Arcy in 1980 and went on to pull good sized crowds at places like the famous Ruskin Arms where bands like Iron Maiden also performed in their early years. Rampant eventually disbanded, as so many of the time did and all members went off to play in other outfits. After several decades of total Rampant inactivity a growing interest from NWOBHM enthusiasts seeking information on the band and enquiries from old followers influenced original members, Paul Playle (guitar, backing vocals) and frontman Tee, to set about reforming. Paul has since departed due to other commitments pulling at him that meant he sadly had to leave, but the band soon recruited the perfect replacement in Sam Henstock who fitted straight and the reborn Rampant continued on its path, returning to playing live throughout the summer and to fantastic response!
Rampant has since played some big (pre-Covid 19) shows with its trademark high energy and entertaining performances and added to its fast growing following. The band has also recently released the single "Phantom Riders", available in CD and download formats from Bandcamp. The next step in Rampant's rebirth is to release a full album of its brand of heavy metal thunder; with recording about to begin, the first full-length album will be named "A Frayed New World" and will be released in 2021 by No Remorse Records. Covid-19 permitting, this will be followed in June/July 2021 with a full UK tour as special guests, along with Malleus, of Andro Coulton's Give Em Hell and there are also plans for more dates in Europe.