Submitted on Sat, 20 Apr 2019 15:53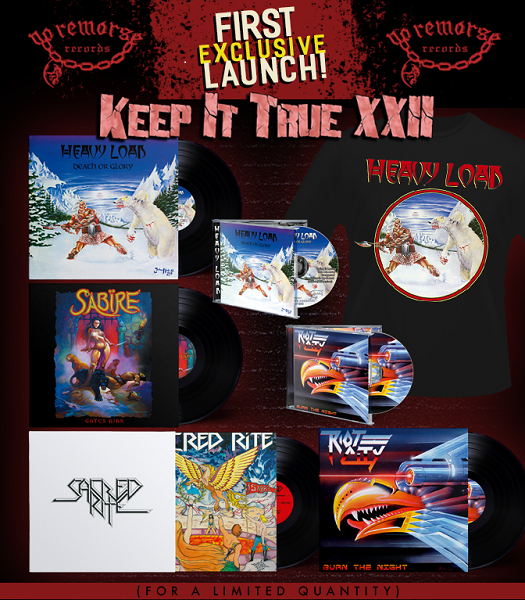 No Remorse Records will be once again at Keep It True Festival (26 & 27 April 2019) in Germany and this year we will have a very special surprise for the festival visitors.
We have secured a limited quantity of the upcoming HEAVY LOAD reissue of "Death Or Glory" LP / CD / Digi CD and will be available exclusively at the festival, 3 weeks before the release date!
Additionally, there will be an EXCLUSIVE new t-shirt of "Death Or Glory", limited to only 100 copies, for the visitors of Keep It True Festival.
At the same time, you will find for first time, the new No Remorse releases:
SABΪRE "Gates Ajar" LP
SACRED RITE "Sacred Rite" LP
And also, a presale of very limited copies, for RIOT CITY's debut album "Burn The Night" CD / LP that has a release date on 17 May 2019.
For all of our friends that have pre-ordered those items, shipping has already started since last week (!) including the sold-out items of the HEAVY LOAD box set and the coloured vinyl versions. Few of our friends will start receiving their orders from today! And the rest will follow.
See you at the festival!