Submitted on Sat, 18 Jul 2020 14:34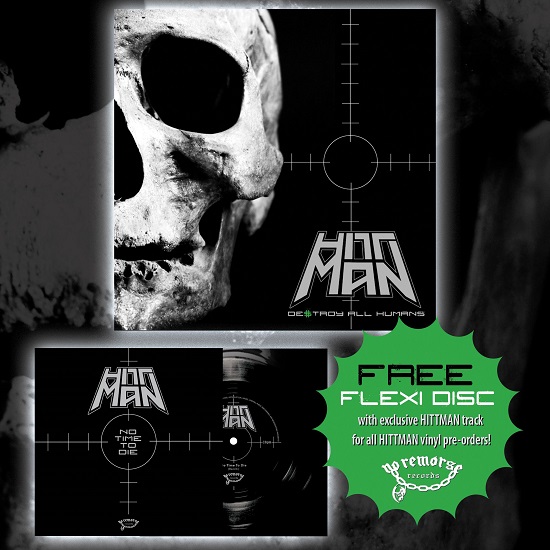 "Destroy All Humans", the new studio album of the legendary US heavy power metal band, the first one in 27 years!
After the positive response of the reissue of the classic same-titled debut album (originally released in 1988 and reissued by No Remorse Records) and Hittman's amazing live shows in Keep It True and Up the Hammers festivals, the band decided to record another new album. When Hittman started recording, the first songs were sent to No Remorse Records and everyone was shocked by their quality! Top notch US metal, powerful and yet melodic, the perfect continuation from the band's debut classic album, including new songs but also two tracks ("Out in the Cold", "Code of Honour") originally written before the release of Hittman's debut album!
HITTMAN "Destroy All Humans" available versions:
CD with 24-page booklet.
Black vinyl in gatefold sleeve.
Silver vinyl in gatefold sleeve, limited to 100 copies - SOLD OUT.
Free flexi disc with exclusive HITTMAN track for all HITTMAN vinyl pre-orders!
Pre-order "Destroy All Humans" LP directly from No Remorse online store and for each order including the vinyl version, you will receive a free flexi disc with the exclusive track "No Time to Die".
Important note: there is a limited quantity of flexi discs and the gift applies ONLY during the pre-order phase and ONLY one flexi disc for each order.
Listen to the new track, "Breathe":
TRACKLIST:
1. Destroy All Humans
2. Breathe
3. The Ledge
4. Code of Honour
5. Total Amnesia
6. 1000 Souls
7. Out in the Cold
8. Love, 'The Assassin'
LINE-UP:
Dirk Kennedy: Vocals, keyboards
Jim Bacchi: Guitars, keyboards, background vox
John Kristen: Guitars
Greg Bier: Bass Guitar
Jai 'Es: Drums on "Destroy All Humans", "Breathe" & "Total Amnesia"
Joe Fugazi: All other drums
DISCOGRAPHY:
Hittman (1988)
Vivas Machina (1993)
Destroy All Humans (2020)